Are you looking for translation services in the Greek-English language combination? LinguaMost provides a full range of translation services to companies and individuals around the world.
Translation from English to Greek and other languages
It is definitely the most common language combination in the translation service. It is of great demand, whether you need to translate simple common texts, documents of large companies, patents or scientific papers. Surely, the client should look for that translation service provider that ensures guaranteed results, instead of trusting an amateur person whose work could damage the client's business and reputation.
LinguaMost undertakes translations from English into Greek, Russian, Ukrainian, French, German, Italian and many other languages.
Our translation agency specializes in translations from and into English. We have particular expertise in the following fields:
Greek (Greek: Ελληνικά, romanized: Elliniká) is an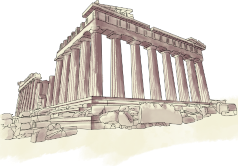 independent branch of the Indo-European family of languages, native to Greece, Cyprus, Albania, other parts of the Eastern Mediterranean and the Black Sea. It has the longest documented history of any living Indo-European language, spanning at least 3,500 years of written records. Its writing system has been the Greek alphabet for the major part of its history; other systems, such as Linear B and the Cypriot syllabary, were used previously.The alphabet arose from the Phoenician script and was in turn the basis of the Latin, Cyrillic, Armenian, Coptic, Gothic, and many other writing systems.

Translation from Greek into English
We provide reliable translations from Greek into English. Although most of people nowadays speak English, translation into English by non-native speakers is quite challenging. For this reason we guarantee that your texts will be translated by a professional translator whose English is his/her mother tongue, ensuring the excellent results you are looking for.
Click here to find general information on translation rates, or fill out our form to get a free quote for your translation.