If your travel agency or hotel often hosts tourists from other countries, you probably have already realized that high quality translation is a real need.
LinguaMost is a translation agency with a very high level of expertise in the translation of tourism industry content and is able to meet your translation needs, whether you are a hotel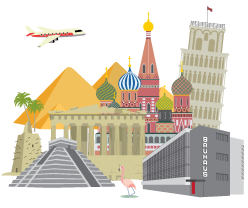 looking to translate room information for its guests, a travel agency trying to sell the experience to foreign tourists or a restaurant that wants to translate its menu into multiple languages.
The first thing that needs to be translated is your website. If your potential clients can't find information they're looking for in their own language, they probably won't prefer your services. Start with the native language of the majority of your foreign visitors and then translate your website into other languages.
LinguaMost has high standards and specialization in the translation of the content in the field of tourism and hospitality. Become a leader in your industry by providing clients with content translated by professional translators. Your customers will appreciate it, they will return many times and your hospitality will be known everywhere.
Click here to find general information on translation rates, or fill out our form to get a free quote for your translation project.